Starting anything new, especially at a later age in life, can be a daunting thing. We run into so many obstacles in life and it seems that age is always a factor holding people back from fulfilling their potential. Every excuse under the sun could be used. You could be out of shape, haven't worked out in years, or "don't have enough time", whatever it is, know that it is an excuse that needs to be laid to rest. In this article, we will answer the question "Am I Too Old to Start Jiu-Jitsu?"
Am I Too Old to Start Jiu-Jitsu?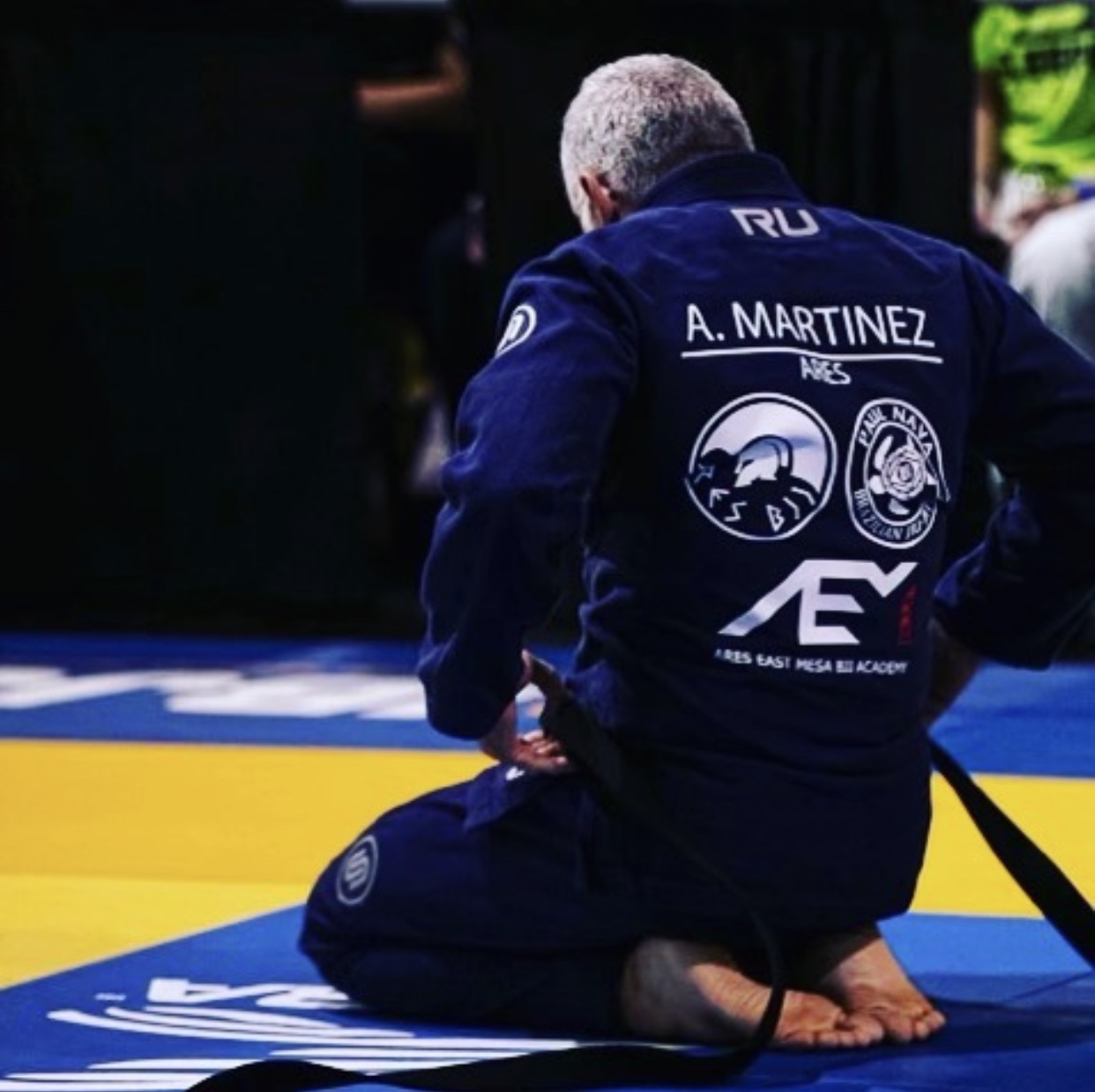 Choices are the only things that allow us to move past our excuses and a great example of choosing a greater lifestyle is none other than Alex Martinez, CO-Owner of Ares East Mesa BJJ Academy. There are so many examples in this world of people starting later in life who excel beyond their own beliefs. We had the pleasure of interviewing jiu-jitsu black belt instructor and navy veteran, Alex Martinez this last weekend to talk about his story. From being in a dark place to now loving what he does each day, Alex is a shining example of putting personal excuses aside to change for the better.
Starting Something Later in Life with Alex Martinez
Alex was convinced at the age of 40 to just try out a couple of classes by his wife's co-worker who would not shut up about the sport. At this time he was in a dark place. Weighing in at almost 250 lbs, Martinez was in bad shape, both mentally and physically. Martinez painted a picture of a time when he would have to take breaks after just walking up a flight of stairs."I had no desire to do anything. At one point I thought I was going to die from a heart attack from just walking up the stairs."
After being convinced he googled the nearest jiu-jitsu gym to him and signed up a week later. "This sport changed my life," said Alex, "I do not know where I would be if I did not discover the sport and committed to it". He highlighted that most of the changes he has seen were not just the ones in the mirror. "Outside of the physical changes (down more than 60 lbs) the mental changes have been the biggest difference for me. I am a better husband, father, and friend because of the lessons I have learned on the mats."
Jiu-jitsu is a sport that is for everyone. Those that do join and stay committed experience something you cannot find anywhere else. The brotherhood formed around this community and personal benefits are unmatched. Alex got his black belt under 4x IBJJF World Masters Champion Paul Nava who also runs a gym based out of Phoenix, Arizona.
Alex Martinez is currently transitioning into going full-time within his business to the massive growth he and his partner have seen within the local area. Martinez has also dived fully into podcasting. He has interviewed some top-level competitors Josh Cisneros, who will be competing at the world championship ADCC this fall in Las Vegas.
It is never too late to change and try something new. Alex Martinez is a beaming example of this. We hope that we can use this story as inspiration to go out and make it happen!
Happy Rolling!