ADCC Trials are starting to get closer and closer and the BJJ community is waiting for more exciting grappling to take place. Competitors around the world are gearing up to showcase what they have been training for since the last ADCC in Las Vegas in 2022. In this article, we will answer the question 'what is ADCC Absolute Division" and provide an overview of what ADCC is and how it is formatted.
What is ADCC Absolute?
The ADCC Absolute division is the division that is open to anybody from any weight class. Grapplers will compete in a tournament-style competition to be crowned the world's undisputed champion. This division is typically filled with people from the higher-weight classes. Even though people that grapple at ~150 lbs can technically keep up with bigger guys, there is always a limitation to what can be done, especially when competing at the level they are.
The latest ADCC Absolute Champion was none other than Gordon Ryan who is leaps and bounds ahead of the competition at this point. If you do not know who Gordan is he is a 27-year-old professional Jiu-Jitsu athlete who is equivalent to the LeBron of the jiu-jitsu generation.
Understanding ADCC Absolute: The Premier Submission Grappling Tournament
The future of the ADCC looks bright and very promising. We had the privilege to attend the last ADCC tournament in 2022 and it was pretty entertaining to watch first-hand. To our surprise people like Joe Rogan, Jocko, and Lex Fridman all showed up and the UNLV stadium was pretty much full for the entire weekend.
People from all over the world came to watch the tournament live.
One key factor that we think continues to increase the interest in tournaments like ADCC and jiu-jitsu, in general, is the rise of MMA and how popular the sport is becoming for main stream celebrities. The list of people who train and talk highly of jiu-jitsu training continues to expand by the day.
We believe that the next decade will be an interesting one for the industry! We are excited to grow with the community that is budding and make our mark in the space!
ADCC Weight Classes
The following image shows the official weight classes for the qualifiers and world championship matches every two years.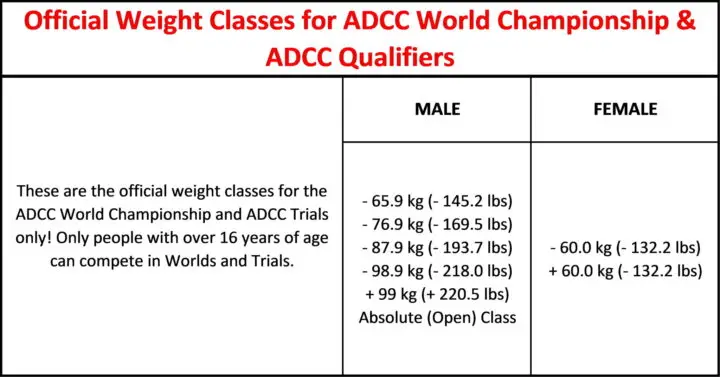 Weight Divisions for Males ADCC
For male competitors that plan on competing at the world stage these are the weight classes you will be classified under:
Lightweight – Below 65.9 kg (below 145 lbs)
Welterweight – Below 76.9 kg (below 169.5 lbs)
Middleweight – Below 87.9 kg (below 193.7 lbs)
Light Heavyweight – Below 98.9 kg (below 218 lbs)
Heavyweight – Above 99 kg (Above 220.5)
Due to the growth of ADCC and jiu-jitsu as a martial art ADCC has decided to open up smaller more regional tournaments to the public in between the larger event that takes place every two years. Here is the weight classes you can expect if you plan on competing in a regional ADCC tournament: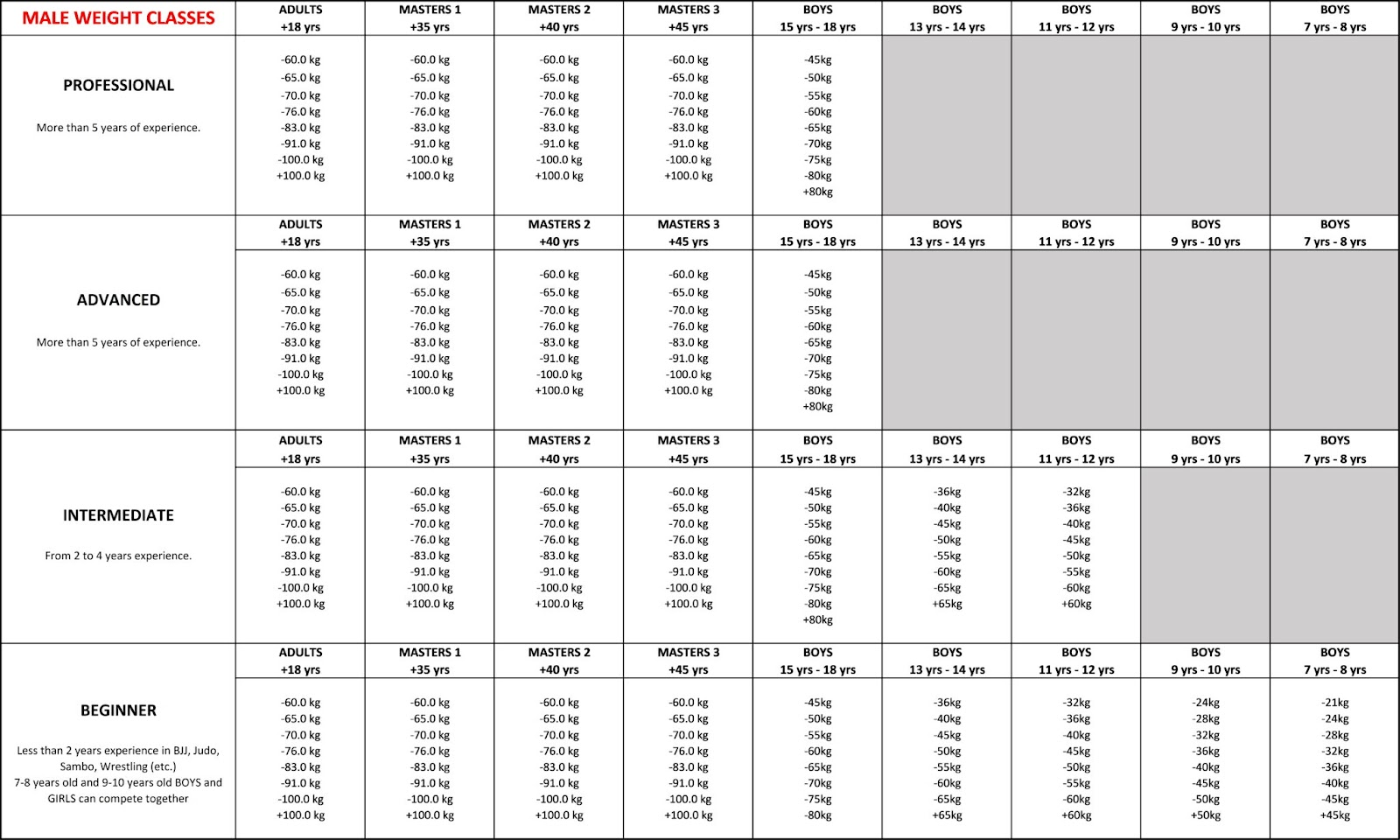 Weight Divisions for Females ADCC
For female adults competing in the ADCC Championships, and the Teams competition, the classes are the following: 
Lightweight – (below 132.3 lbs)
Heavyweight – (Above 132.3 lbs)
What is a Superfight?
A BJJ superfight is a Brazilian jiu-jitsu competition between two high-level BJJ practitioners think of it as a main event in a regular MMA Match. Two of the most high-profile athletes in the sport at the time will usually go head-to-head to see is the undisputed champion of the world (while also competing in their own respective weight class).
Unlike the tournament setting, there are no brackets or weight classes in the Superfight, competitors are typically free to use whatever techniques they please in this match. Superfights can be governed under a different set of rules but the most common format is submission-only. The BJJ community loves to support and watch super fights not just at ADCC. Fight-to-win is a large fight club organization that sets up super fights in local states all across the United States.
They are a great way to get your name out there on both a local and high level within the BJJ community.
ADCC Rules and Format
ADCC BJJ Rules: Overview
Overview
The Championship is Tournament Style and only the winner goes on.
No Slippery Substances on body or clothing.
If fighters go out of the mat area, the ref will restart the fight in the same position they went out in.
How You Can Win
Submission, Points, Referee decision, Opponent Disqualification.
If a competitor gives up or submits by tapping the leg, arm, or verbally.
If a fight is over without scoring points by both fighters, the referee decides the match.
If the Referee feels one competitor is unable to defend himself or feels his life is in danger, the Referee will declare the winner.
The Referee will disqualify a fighter for breaking forbidden rules.
Time Limits for World Championships
Qualifying Rounds = 10 Mins / with a 5 min overtime if it's a draw. (Max 1 overtime)

First 5 mins there are no points

Second 5 mins with points (negative and positive)
Finals, Absolute Finals & Superfight = 20 mins / with 10 min overtime if there is a draw (Max. 2)

First 10 mins no positive points (only negative points will be counted)

Second 10 mins with points (negative and positive points)

Overtimes 10 mins (negative and positive points)
This past weekend (April of 2023) was the Costa Mesa ADCC Trails where athletes worldwide came to compete and put on a show in the small regional tournament leading up to the big showdowns later this year and early into 2024. Athletes have been training and competing in local tournaments for this moment coming up in 2024. We cannot wait to see who comes out and starts to make a name for themselves in the Grappling World Championships!